Download Minecraft 1.19.0 dengan link download terbaru sekarang juga!
Minecraft 1.19.0 adalah sebuah update besar yang meluncur pada Juni 2022 di seluruh dunia untuk Java dan Bedrock Edition.
Versi Minecraft 1.19.0 ini rilis bersama segudang konten baru yang diberi nama "The Wild" di dalamnya.
Beberapa konten utama yang nantinya bisa kalian nikmati adalah:
---
Minecraft 1.19.0 New Feature
– Deep Dark
In the depths of the Overworld, you will find one of the scariest biomes in all of Minecraft. Buried undergound, especially at the bottom of mountainous regions.

this area is filled with sculk blocks, ancient structures, loot chests, and one, single, solitary mob. To navigate the deep dark, you need to sneak, use Silk Touch, and above all else – don't wake the warden!
– Warden
The only mob that spawns in the deep dark is none other than the warden. The warden will only make an appearance if its slumber is disturbed, which means that brave explorers must sneak around very quietly.

Quick movements risk setting off a sculk sensor that trigger a sculk shrieker. If you have the misfortune of hearing it pierce through the silent shroud of the deep dark, it's time to get out.
Even though the warden can't see, this doesn't slow it down but works to its advantage. The warden can sniff out any intruders and uses vibrations to detect their exact location.
– Sculk Blocks
There are five different types of sculk blocks to be found in the deep dark. If you want to mine them, you will need to stay stealthy and use Silk Touch.

The sculk block is a great decorative block thanks to its atmospheric glow.
The sculk sensor is a redstone block that detects vibrations, so walk carefully or use a wool block to muffle your steps.
The sculk catalyst spreads sculk around it and sculk veins generate around patches of sculk that spawn from the sculk catalyst.
Finally, the sculk shrieker is possibly the most dangerous block of all since it will summon the warden if you're not careful!
– Recovery Compass and Echo Shards
The recovery compass is the solution for finding the way back to the last location you died. Loot chests in ancient cities to discover echo shards and craft one for yourself!
– Mangrove Swamp Biome
Towering trees, wide roots, small saplings, and muddy terrain make up the new mangrove swamps. Found in areas with high temperatures and high humidity, this new swamp also introduces mangrove trees and mud blocks, bringing a wide range of new materials to craft builds inspired by the beauty of the Overworld!
– Mangrove Trees/Wood
Mangrove trees introduce a brand-new type of wood block to build with, the logs can be crafted into planks, stairs, buttons, slabs, fences, doors, signs, and pressure plates. You can also craft with the mangrove tree's leaves, roots, and small saplings called propagules!
– Mud Blocks
Mud can be found all over mangrove swamps and crafted with wheat into packed mud! Use it to craft a variety of mud brick blocks including stairs, slabs, and walls.

This block is also renewable by using a water bottle on dirt, so there is no risk of running out of mud. Placing Mud above a block that has pointed dripstone underneath will eventually turn the mud block into clay!
– Frogs and Tadpoles
Frogs feed on small slimes, breathe on land and in water, and lay eggs called frogspawn.

The eggs will hatch and turn into tadpoles, making this the first mob that isn't bred from a smaller version of itself!
There are three different types to discover – temperate frogs, warm frogs, and cold frogs – so getting your hands on all three means that you will need to travel through the Overworld!
– Froglight Blocks
These luminous blocks come in three different variants depending on which frog type produces it.

If you want to light up your base with ochre, verdant, or pearlescent froglights, you will need to figure out a way to feed a frog a very small magma cube!
– Allay
The winner of the Minecraft Live 2021 Mob Vote is flying into Minecraft! Instantly recognizable by its luminous blue sheen, you won't lose this mob once you find it.

Hand it an item and it will pick up matching items it finds in the world. It loves music and will drop items if it hears a note block playing nearby. The allay spawns in pillager outposts and woodland mansions and is waiting for you to set it free!
– Boat in Chest
The Wild Update makes it possible for you to craft a boat with a chest on it, which is convenient since there are plenty of new blocks to bring back from your new adventures!
– Goat Horn
Dropped by goats that ram into hard blocks and can be used to make a variety of sounds! Can you find all eight variants?
– New Music
Added new music by Lena Raine and Samuel Åberg
Music Disc 5

Unlike other discs, it can only be obtained by finding and crafting nine disc fragments together
These disc fragments can be found rarely in ancient city chests

Mobile players: To hear the new music, you will need to download the updated Minecraft Original Music Pack, available FREE from Marketplace
– New Achievements
It Spreads – Kill a mob next to a catalyst
Birthday Song – Have an Allay drop a cake at a note block
With Our Powers Combined! – Have all 3 froglights in your inventory
Sneak 100 – Sneaking next to a Sculk Sensor without triggering it
---
Vanilla Parity:
– Mobs
Fixed an issue causing baby Llamas to fire llama spit from above their head (MCPE-144948)
Mirrored the Spider's left legs (MCPE-152927)
– Items
Updated Boat item icon textures to make them consistent with Java Edition (MCPE-153353)
– Blocks
Fences and Walls no longer connect to Bells and Brewing Stands (MCPE-152757)
Fixed a bug where the Brewing Stand's arms textures did not touch the base (MCPE-152932)
Moved the Brewing Stand's base UVs and updated the base texture
Fixed the Brewing Stand's arms rotation
Created a better transition between the End Portal Frame side texture and the End Stone (MCPE-152930)
Removed unused pixels in the End Rod texture (MCPE-152929)
Updated the Mycelium's side texture to match other dirt-based textures (MCPE-152928)
Fixed Light Blocks being destroyable from within while underwater (MCPE-148393)
– Wandering Trader
The Wandering Trader no longer opens or closes doors (MCPE-113452)
The Wandering Trader now randomly moves around (MCPE-45756)
The Wandering Trader now matches Java Edition's drinking sounds (MCPE-47057)
The Wandering Trader now has disappear/reappear sound effects when gaining/losing Invisibility
The Wandering Trader can now be named with a Name Tag (this will not prevent it from despawning)
– Shulkers
Shulkers are now fire immune (MCPE-33236)
Shulkers now remain in upright position in vehicles (MCPE-115269)
Shulkers no longer fail to spawn when there's another Shulker at relative negative y and x axis
---
Link Download Minecraft 1.19.0 The Wild Update
Langsung aja kali bisa download Minecraft 1.19.0 ini merlalui link yang kami taruh di bawah
Buat kalian yang sudah lama main, wajib download Minecraft 1.19.0 ini agar dapat menikmati pengalaman bermain yang lebih asyik.
Yuk, segera download Minecraft 1.19.0 dan nikmati permainan yang lebih baik.
Jangan lupa untuk pantengin terus artikel-artikel menarik lainnya di Gamenosida.com
Supaya kamu bisa terus mendapatkan informasi terbaru lainnya tentang seputar dunia Minecraft.
---
Tentang Download Minecraft 1.19.0
Minecraft adalah sebuah permainan dunia pasir yang dikembangkan oleh Mojang Studios.
Di sini kamu akan diajak masuk ke dalam dimensi 8-bit sambil berpetualang dengan berbagai macam jenis batu block.
Eksplorasi dalam dunia game ini sangatlah tidak terbatas dan kamu bisa membuat berbagai macam jenis bangunan apa saja.
Mulai dari yang paling biasa-biasa saja hingga yang keren abis seperti istana.
Di Minecraft, kamu bisa bermain dalam Mode Creative dengan sumber daya yang tak terbatas untuk membangun objek-objek keren.
Atau kamu juga bisa bermain mode survival untuk mencari tantangan sendiri.
Di sini kamu bisa bermain sambil membuat senjata dan baju armor yang kuat untuk melawan monster monster berbahaya.
Dalam game ini kamu juga bisa merancang sesuatu, pergi ekplorasi, dan bertahan hidup sendirian.
Atau kamu juga bermain bersama teman lewat perangkat mobile, konsol maupun Windows 10 secara cross platform.
---
Berapa Lama Minecraft Bisa Tamat?
Game Minecraft pada umumnya memang tidak menyediakan jalan cerita apa-apa.
Yang ada hanyalah kamu bisa pergi berpetualang ke sana sini secara bebas.
Sebenarnya ada sebuah misi tersembunyi yang dapat kamu coba kerjakan,
Yaitu adalah mengalahkan Ender Dragon yang ada di dimensi the End.
Untuk pergi ke sana kalian harus membuat ender portal yang terdapat pada sruktur Stronghold.
Rata-rata pemain dapat menyelesaikannya dalam waktu kurang lebih 753 jam ke atas.
---
Apakah Minecraft ada di Game Pass?
Kabar baiknya adalah game ini secara permanen masuk ke dalam layanan milik Microsoft itu dalam bentuk satu paket.
Jadi kalian bisa berlangganan Xbox PC Game Pass untuk main Minecraft Bedrock dan Java Edition.
Selain itu juga dapat bermain game-game menarik lainnya yang tidak kalah ser80.24dari Minecraft.
Xbox Game Pass sendiri sudah tersedia di Indonesia dalam bentuk Xbox PC Game Pass mulai dari harga Rp.49.999,-.
---
Spesifikasi Minecraft di PC dan Laptop
– MINIMUM:
OS: Windows 7 64 bit ke atas
CPU: Intel Core i3-3210 3.2 GHz / AMD A8-7600 APU 3.1 GHz
RAM: 2 GB
Grafis: Integrated: Intel HD Graphics 4000 / AMD Radeon R5 series / Nvidia GeForce 400 Series / AMD Radeon HD 7000 series dengan OpenGL 4.4
PIXEL SHADER: 5.0
VERTEX SHADER: 5.0
HDD / SSD: 1 GB ruang yang tersedia untuk install penuh
– RECOMMENDED:
OS: Windows 10 64 bit ke atas
CPU: Intel Core i5-4690 3.5GHz / AMD A10-7800 APU 3.5 GHz atau lebih bagus
RAM: 4 GB
Grafis: GeForce 700 Series / AMD Radeon Rx 200 Series dengan OpenGL 4.5
DEDICATED VIDEO RAM: 256 MB
PIXEL SHADER: 5.0
VERTEX SHADER: 5.0
HDD / SSD: 4 GB
---
Spesifikasi Minecraft di HP Android dan iOS
Bagi kalian yang ingin main di Mobile terntunya harus terlebih dahulu punya perangkat yang cukup kuat.
Tujuanya adalah agar game ini dapat berjalan dengan lancar dan nyaman saat dimainkan.
Berikut adalah Spesifikasi Minecraft Pocket Edition di Mobile.
MINIMUM
– Android:
Versi: Android 5.0 ke atas
RAM : 2 GB
Storage: 1 GB
– iPhone:
Versi: iPhone 11 ke atas
RAM: 2 GB
Storage: 2 GB
RECOMMENDED
– Android:
Versi: Android 10 ke atas
RAM : 4 GB
Storage: 2 GB
– iPhone:
Versi: iPhone 12 ke atas
RAM: 4 GB
Storage: 3 GB
---
Tahukah Kamu?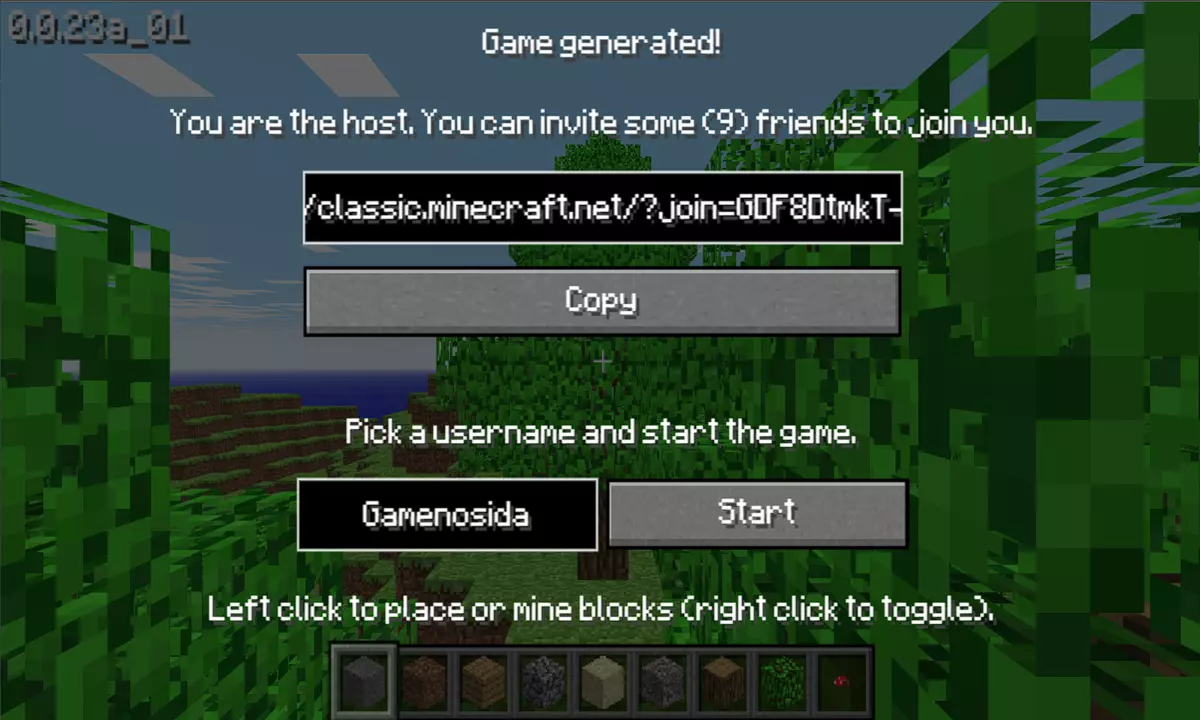 Versi paling awal dari game Minecraft dapat kamu mainkan dalam bentuk web browser secara gratis.
Jika tertarik bisa langsung aja KLIK DI SINI untuk mencobanya sekarang juga.
Walaupun dapat dimainkan secara online / co-op, sayangnya versi klasik ini tidak mendukung fitur cloud dan save file sama sekali.