Download Minecraft 1.18.0 dengan link paling terbaru ini sekarang juga!
Minecraft 1.18.0 sebetulnya adalah sebuah update lama yang menluncur pada akhirv tahun 2021 lalu.
Versi Minecraft 1.18.0 ini rilis sebagai Caves & Cliffs: Part II yang melanjutkan konten dari update sebelumnya.
Seperti bioma gunung, meadows, Jagged Peak, dan lain sebagainya.
Di samping itu juga hadir bersama update game engine, perbaikan teknis serta gameplay.
---
Minecraft 1.18.0 MAIN FEATURES
– World Generation
Worlds can now be created with 64-bit seeds (-9223372036854775808 to 9223372036854775807).

These seeds can be used between Bedrock Edition and Java Edition to produce the same world (MCPE-144994, MCPE-148168)

Non-numeric seed UI inputs now produce the same seeds as Java Edition
Acacia Trees now grow Leaves on every branch below Y = 0 (MCPE-151386)
– Gameplay
Tweaked hunger depletion rate to better match Java Edition (MCPE-56031)

Players can now properly lose hunger when sprinting or swimming
Players lose significantly less hunger when jumping
Exhaustion rates can now be tweaked in Behavior Packs

Players flying in Creative mode are no longer pushed by liquid current (MCPE-84592)
– Mobs
Shulkers now have a chance to spawn another Shulker when hit by a Shulker projectile (MCPE-104826)
When a mob picks up an item, the item can now be seen slightly "pulled" towards the mob right as it picks it up. This matches the behavior of Java Edition
Drowned can no longer spawn where the block light level is above 0 (MCPE-150148)
Bees no longer become angry when Beehives are destroyed by Silk Touch (MCPE-83550)
Untamed Wolves can now be leashed (MCPE-82050)
Mobs can no longer spawn on Campfires (MCPE-152770)
The Ravager now targets and attacks the Wandering Trader (MCPE-44606)
Mobs spawned from a Dispenser are now persistent (MCPE-110521)
– Blocks
Falling blocks once again have full-block hitbox
Changed block tick rates for Cactus, Chorus Flower, Crops, Grass, Pointed Dripstone, and Saplings to match Java Edition (MCPE-145612)
Cauldrons now only fill with water and lava by Dripstones that are below water and lava source blocks
TNT blocks now correctly move in a random X/Z direction once lit
Glow Lichen no longer generates hanging in the air inside Strongholds (MCPE-123448)
Glow Lichen now correctly checks for the face of the block they are attached to be a full block
Glow Lichen can now be attached to Leaves
Blocks such as Glow Lichen, Torches, and Redstone can no longer be placed on or attached to Brewing Stands
Blocks such as Glow Lichen, Torches, and Redstone can now be placed on or attached to Trapdoors, depending on their state
Azaleas and Lily Pads are now broken by flowing water (MCPE-152040)
– Items
The player's arm no longer twitches while charging a bow (MCPE-148486)
Nether Brick, Iron/Gold Nuggets, Red/Brown Mushroom Blocks, and Chorus Plant/Flower Blocks can no longer be used as fuel in Furnaces (MCPE-114216)
Water and Lava Buckets can now be used on waterlogged blocks, such as Light Blocks or Big Dripleaves (MCPE-148392)
– Combat and Damage
Improved accuracy of damage calculations
Fixed some issues where damage invulnerability wasn't being applied properly
The camera now shakes the same way it does in Java Edition when the player receives damage (MCPE-118510)
Absorption Hearts no longer stay yellow while under the Wither effect (MCPE-131852)
Added armor toughness
Diamond Armor and Netherite Armor now have a toughness value of 2 and 3 respectively
Tweaked armor reduction calculation to account for toughness
Netherite Armor will now reduce more damage than Diamond Armor
Lowered the amount of knockback resistance granted by Netherite Armor (MCPE-109408)
Punching deals less damage now, to better match the Java Edition (MCPE-152713)
Damage is now calculated more accurately by properly calculating and storing partial damage for larger damage
Mobs across higher and lower difficulties had their damage adjusted slightly accordingly
Mobs with knockback resistance (e.g. Ravager or Zoglin) now receive less knockback when hit by an Iron Golem
Armor and protection reduction calculations have been made more accurate
Dragon's Breath attack now properly deals damage (MCPE-94317)
Protection Enchantment now properly works on most damage types (MCPE-40651)
Landing on a Stalagmite is now properly considered fall damage (MCPE-151192)
Blaze Fireball will deal knockback on impact (MCPE-82421)
Blaze fireballs, Fang attack damage, and Shulker bullets now deal consistent damage across all difficulties
Small Magma Cubes do slightly more damage, from 2 to 3 on normal
Spiders deal slightly less damage, from 3 to 2 on normal (MCPE-94878)
Baby Zoglins deal slightly less damage, from 1 to 0.5 on normal
Baby Hoglins now attack players for 0.5 damage on normal (MCPE-152577)
Skeleton melee attack does slightly less damage, from 3 to 2 on normal
Wolves deal slightly more damage, from 3 to 4 on normal
– Villagers
Updated Villager trade tables for Armorer, Cleric, Fisherman, Shepherd, Toolsmith, and Weaponsmith to match Java Edition

Fishermen Boat trades now change wood type based on Villager biome type
Clerics now offer Glowstone instead of Glowstone Dust
Weaponsmith enchanted Iron Sword trade moved to Novice
Armorer Diamond trade moved to Journeyman

Villagers no longer share Seeds and Beetroot Seeds
Cartographers now always unlock Woodland Explorer Map trade (MCPE-152725)
Fixed an error where Journeymen Clerics would offer Glowstone Dust instead of Glowstone Blocks (MCPE-57524)
Farmer Villagers can now use Bone Meal on crops and can turn excess Seeds into Bone Meal at their Composter (MCPE-74079)
---
Link Download Minecraft 1.18.0
Buat kalian yang ingin mencoba update versi jadul ini bisa langsung aja download Minecraft 1.18.0 dengan link di bawah.
Yuk, segera download Minecraft 1.18.0 dan nikmati permainan yang lebih baik.
Jangan lupa untuk pantengin terus artikel-artikel menarik lainnya di Gamenosida.com
Supaya kamu bisa terus mendapatkan informasi terbaru lainnya tentang seputar dunia Minecraft.
---
Tentang Download Minecraft 1.18.0
Minecraft adalah sebuah permainan dunia pasir yang dikembangkan oleh Mojang Studios.
Di sini kamu akan diajak masuk ke dalam dimensi 8-bit sambil berpetualang dengan berbagai macam jenis batu block.
Eksplorasi dalam dunia game ini sangatlah tidak terbatas dan kamu bisa membuat berbagai macam jenis bangunan apa saja.
Mulai dari yang paling biasa-biasa saja hingga yang keren abis seperti istana.
Di Minecraft, kamu bisa bermain dalam Mode Creative dengan sumber daya yang tak terbatas untuk membangun objek-objek keren.
Atau kamu juga bisa bermain mode survival untuk mencari tantangan sendiri.
Di sini kamu bisa bermain sambil membuat senjata dan baju armor yang kuat untuk melawan monster monster berbahaya.
Dalam game ini kamu juga bisa merancang sesuatu, pergi ekplorasi, dan bertahan hidup sendirian.
Atau kamu juga bermain bersama teman lewat perangkat mobile, konsol maupun Windows 10 secara cross platform.
---
Berapa Lama Minecraft Bisa Tamat?
Game Minecraft pada umumnya memang tidak menyediakan jalan cerita apa-apa.
Yang ada hanyalah kamu bisa pergi berpetualang ke sana sini secara bebas.
Sebenarnya ada sebuah misi tersembunyi yang dapat kamu coba kerjakan,
Yaitu adalah mengalahkan Ender Dragon yang ada di dimensi the End.
Untuk pergi ke sana kalian harus membuat ender portal yang terdapat pada sruktur Stronghold.
Rata-rata pemain dapat menyelesaikannya dalam waktu kurang lebih 753 jam ke atas.
---
Apakah Minecraft ada di Game Pass?
Kabar baiknya adalah game ini secara permanen masuk ke dalam layanan milik Microsoft itu dalam bentuk satu paket.
Jadi kalian bisa berlangganan Xbox PC Game Pass untuk main Minecraft Bedrock dan Java Edition.
Selain itu juga dapat bermain game-game menarik lainnya yang tidak kalah ser80.24dari Minecraft.
Xbox Game Pass sendiri sudah tersedia di Indonesia dalam bentuk Xbox PC Game Pass mulai dari harga Rp.49.999,-.
---
Spesifikasi Minecraft di PC dan Laptop
– MINIMUM:
OS: Windows 7 64 bit ke atas
CPU: Intel Core i3-3210 3.2 GHz / AMD A8-7600 APU 3.1 GHz
RAM: 2 GB
Grafis: Integrated: Intel HD Graphics 4000 / AMD Radeon R5 series / Nvidia GeForce 400 Series / AMD Radeon HD 7000 series dengan OpenGL 4.4
PIXEL SHADER: 5.0
VERTEX SHADER: 5.0
HDD / SSD: 1 GB ruang yang tersedia untuk install penuh
– RECOMMENDED:
OS: Windows 10 64 bit ke atas
CPU: Intel Core i5-4690 3.5GHz / AMD A10-7800 APU 3.5 GHz atau lebih bagus
RAM: 4 GB
Grafis: GeForce 700 Series / AMD Radeon Rx 200 Series dengan OpenGL 4.5
DEDICATED VIDEO RAM: 256 MB
PIXEL SHADER: 5.0
VERTEX SHADER: 5.0
HDD / SSD: 4 GB
---
Spesifikasi Minecraft di HP Android dan iOS
Bagi kalian yang ingin main di Mobile terntunya harus terlebih dahulu punya perangkat yang cukup kuat.
Tujuanya adalah agar game ini dapat berjalan dengan lancar dan nyaman saat dimainkan.
Berikut adalah Spesifikasi Minecraft Pocket Edition di Mobile.
MINIMUM
– Android:
Versi: Android 5.0 ke atas
RAM : 2 GB
Storage: 1 GB
– iPhone:
Versi: iPhone 11 ke atas
RAM: 2 GB
Storage: 2 GB
RECOMMENDED
– Android:
Versi: Android 10 ke atas
RAM : 4 GB
Storage: 2 GB
– iPhone:
Versi: iPhone 12 ke atas
RAM: 4 GB
Storage: 3 GB
---
Tahukah Kamu?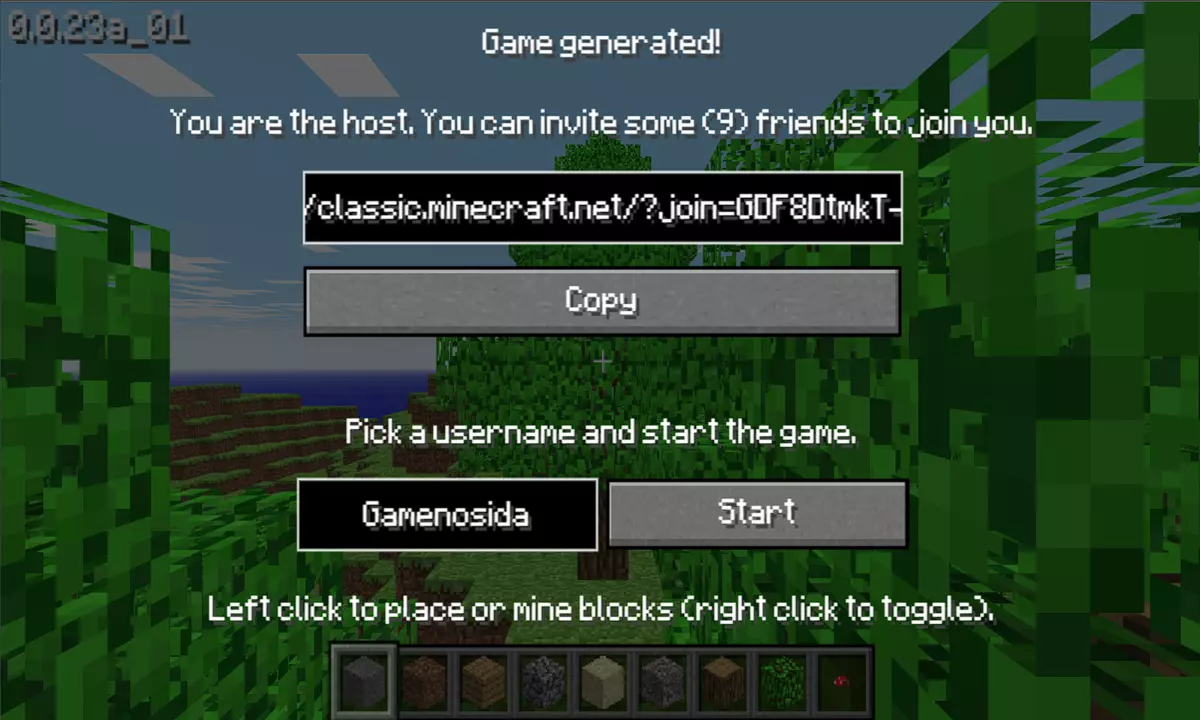 Versi paling awal dari game Minecraft dapat kamu mainkan dalam bentuk web browser secara gratis.
Jika tertarik bisa langsung aja KLIK DI SINI untuk mencobanya sekarang juga.
Walaupun dapat dimainkan secara online / co-op, sayangnya versi klasik ini tidak mendukung fitur cloud dan save file sama sekali.