Download Minecraft Java Edition 1.19.4 yang paling baru 2023 dengan link berikut ini.
Link download Minecraft Java Edition 1.19.4 resmi telah diluncurkan oleh Mojang Studios per hari ini 15 Maret 2023.
Update versi terbaru Minecraft Java Edition 1.19.4 ini mereka rilis eksklusif di PC saja bersama segudang konten-konten baru.
Apa saja isi konten baru itu? Yuk kita simak sama-sama!
CHANGES
Updated Horse Breeding
Jukeboxes have changed to be at parity with Bedrock
Interacting with armor or elytra items in-hand will now swap them with equipped gear
The camera tilt when hurt is now based on the direction of incoming damage
Potions colors have been adjusted to make different types of potions more distinguishable
Potions no longer have an enchantment glint due to it obscuring the color of the potion contents
Enchantment glint on items and armor is now more subtle
Armor Stands now preserve custom names when placed and broken
Vexes now use a separate charging animation when empty-handed
Tweaks to recipe unlocking to make discovering vital crafting recipes easier for new players
Updated the Create New World screen
New accessibility options and improvements
Updated the Realms screen to be more in line with the Singleplayer and Multiplayer screens
Added a notification system for Realms to tell you about important information about your Realm
Added "Credits & Attribution" button in the Options menu
HORSES, DONKEYS AND LLAMAS
The speed, jump height and health of a baby is now a variation of the average of the parents' attributes, rather than being biased towards the average possible value.
This change makes horse breeding a viable way of getting great horses, if a player starts with good parents and puts in enough time and Golden Carrots.
JUKEBOX
Emits a note particle above it while playing a music disc
While playing a music disc, it will emit a redstone signal of 15
Droppers and hoppers can now interact with it
CREATIVE MENU
Added painting variants to the creative menu
Paintings with a pre-defined variant will now display the author and title in the item description when hovered over
RECIPE UNLOCKING
The Crafting Table recipe is unlocked immediately on creating a new world
The Crossbow recipe is no longer unlocked by sticks
The Soul Campfire recipe is no longer unlocked by sticks
UPDATED CREATE NEW WORLD SCREEN
The screen is now organized into three tabs

The Game-Tab allows to set the world name, Gamemode, Difficulty and whether to allow cheats
The World-Tab allows to set the World-Type and Seed, and to toggle the generation of structures and the bonus chest
The More-Tab provides access to the Game Rules and DataPack Selection Screen

Tabs can be switched with the keyboard by pressing Ctrl+Tab and Ctrl+Shift+Tab
Specific tabs can also be navigated to by pressing Ctrl+Tab Number

For example, Ctrl+2 navigates to the second tab

Removed the Import Settings button and the corresponding Export Settings button in the Edit World Screen
Added a screen to easily enable/disable experimental features

The screen can always be found under the More-tab
In snapshots, a shortcut button can be found under the Game-tab
ACCESSIBILITY
Added an accessibility onboarding screen for players launching the game for the first time
Auto-Jump is now off by default
Added arrow key navigation
Added high contrast resource pack
The resource pack screen is now keyboard-navigatable
Changed how tooltips in the menu UI are positioned so buttons are still readable
Added a tooltip in the key binds screen that specifies which key binds are conflicting
Added a "Damage Tilt" accessibility option that controls the amount the camera shakes when being hurt
Added two new options in the accessibility menu for adjusting the speed and transparency of enchantment glints
Added a "Notification Time" accessibility option that changes how long notifications such as unlocked recipes, advancements, subtitles and selected item names are visible for
ARROW KEY NAVIGATION
Menu screens can now be navigated by using the arrow keys
When navigating with arrow keys, sliders need to be activated by pressing Enter or Space to start changing the value
HIGH CONTRAST RESOURCE PACK
Added a built-in resource pack that enhances the contrast of UI elements
Added a new option in the Accessibility menu that enables the high contrast resource pack
This only affects the menu UIs for now, but we'll be looking to bring this to gameplay UIs in the future as well
Untuk daftar lengkapnya bisa kamu chech DI SINI
---
Link Download Minecraft Java Edition 1.19.4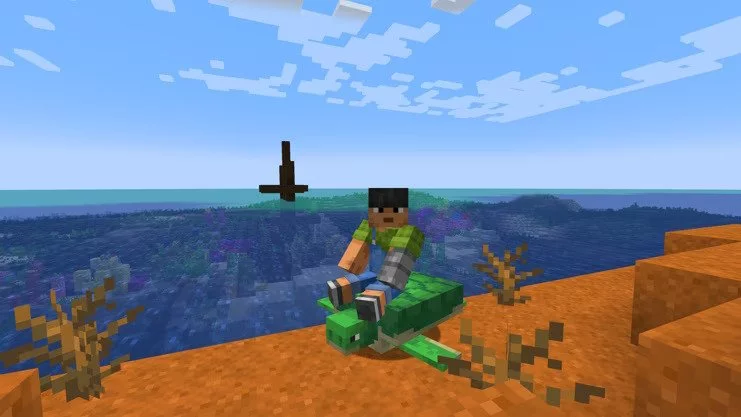 Tanpa perlu panjang-panjang lagi, link download versi terbaru game ini bisa kamu klik di bawah,
Klik DI SINI untuk Link Download Minecraft 1.19.4 PC Full Version
Ya itulah link download Minecraft Java Edition 1.1.9.4 yang bisa kamu pakai untuk main di PC.
Sampai di sini apakah kamu sudah berhasil download gamenya?
Jangan lupa untuk terus membaca artikel-artikel menarik lainnya di Gamenosida.com
Supaya kamu bisa terus mendapatkan informasi terbaru lainnya tentang seputar dunia Minecraft.
---
Tentang Game Minecraft
Minecraft adalah sebuah permainan dunia pasir yang dikembangkan oleh Mojang Studios.
Di sini kamu akan diajak masuk ke dalam dimensi 8-bit sambil berpetualang dengan berbagai macam jenis batu block.
Eksplorasi dalam dunia game ini sangatlah tidak terbatas dan kamu bisa membuat berbagai macam jenis bangunan apa saja.
Mulai dari yang paling biasa-biasa saja hingga yang keren abis seperti istana.
Di Minecraft, kamu bisa bermain dalam Mode Creative dengan sumber daya yang tak ada habis-habisnya untuk membangun objek-objek keren.
Atau kamu juga bisa bermain mode survival untuk mencari tantangan sendiri sambil membuat senjata dan baju armor kuat untuk melawan monster monster berbahaya.
Dalam game ini kamu juga bisa merancang sesuatu, pergi ekplorasi, dan bertahan hidup sendirian.
Atau kamu juga bermain bersama teman lewat perangkat mobile, konsol maupun Windows 10 secara cross platform.